​
Breakfast Mission at the First Presbyterian Church of Trenton
Help change lives by volunteering to help serve a free delicious breakfast at the First Presbyterian Church of Trenton. You will be feeding not just the homeless and unemployed, but also the working poor who need a good meal they otherwise might not afford.
I encourage you to step up and encourage others to experience the joy of making an impact in people's lives in our neighboring community of Trenton. FPCH serves on the second Saturday of every month. We meet at the Wilson House parking lot at 6:30 AM to carpool to the Trenton Church and return by 10:30. Please sign up on the Mission Bulletin Board in Fellowship Hall or Contact Dave Marcus or at 609-426-0304 for more information.
​
​
​
TASK–Trenton Area Soup Kitchen
http://www.trentonsoupkitchen.org/
The Trenton Area Soup Kitchen (TASK) is a private, non-sectarian, charitable organization that depends almost entirely on the help of dedicated volunteers and generous financial support from individuals, churches, local businesses and community organizations.
TASK provides more than 3,000 free meals per week to people in need in the Trenton area. We direct our activities toward helping patrons achieve healthier lifestyles, increased self-esteem, and self-sufficiency. To this end, TASK and agencies using our facility provide a wide array of social, community, and health services. For information or to volunteer email Dave Marcus.
What Can I Do?
Volunteer Opportunities at First Presbyterian
and in the Local Area
​
Community
Dinners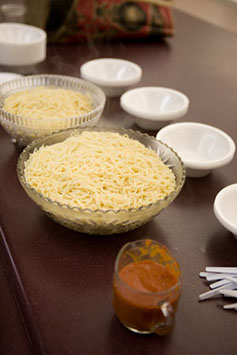 First Presbyterian has been providing free community dinners since May of 2012. We have fantastic volunteers who make the work enjoyable and we have now served over 7,000 meals! We try to meet the needs of our neighbors by bringing them not just food on Mondays from 4:00 P.M. until 5:30 P.M., but also many other goodies.
More importantly, we give folks a non-threatening, safe place to come and socialize and just be with people who care for them as fellow human beings. We give families hope that someone actually cares about them regardless of who they are or where they are from or what they have done. We put smiles on the kid's faces as we pass out the goodies and extra juice and cookies.
We regularly serve 150 meals every Monday. We start setting up at 3:30 and the food arrives at 4:00. We serve until 5:30 and then clean up. For the sit down diners, we serve them at the table. For the take-out diners, we ask how many meals they need, and then a server goes down the line and collects their meals for them. We spend a lot of time talking to our customers and have gotten to know our regulars quite well. Respect for our patrons is key and one that we teach each of our new volunteers. It is a neighborhood event!
Everyone is welcome to come out and help serve our neighbors on any given Monday. It is best to check with the church office, since there are a few Mondays (Labor Day and Memorial Day) holidays on which we do not serve. If you wish to join our fun group, please contact us at 609-448-0055 or email Mark Dahlinger.
​
Weekly Community Dinners in Hightstown, NJ
First Presbyterian Church, 320 North Main Street—Mondays 4-5:30pm
St. James AME Church, 413 Summit Street—Wednesdays 4:30-6:00pm
First United Methodist Church, 187 Stockton Street—Thursdays, 4:30-6:00pm
In 1967, a small group of community stakeholders founded our organization as Community Action Service Center, Inc. (CASC). We were established to fight the war on poverty, as one of four neighborhood centers strategically located throughout Mercer County, under the county's Community Action Partnership. Yet despite the proximity and availability of social services in Trenton, transportation logistics continue to pose a challenge to many of our clients, thereby establishing Rise as a life-line to services in our immediate area.
In 1982 we became a private, non-profit agency, and in 2008, after 40 years of service, changed our name from CASC to Rise | A Community Service Partnership. This change better reflects our role as a vital service hub in our local community, as well as conveys the hope and optimism that we see reflected in our clients.
For fifty years, we have worked with our local community to better serve our neighbors in need. Although the demographics of our clientele have evolved over time — from migrant agricultural workers and African Americans, to the 1970's South East Asian refugees and the present day Latino Community — what has remained constant is our indelible commitment to enabling our neighbors to better achieve their personal and professional success, health and happiness.
A relentless series of fund-raising garage sales led to the opening of the Greater Goods Thrift Store in 2006 as a social enterprise that would both serve our community and increase our financial independence. The Rise Food Pantry came to life in 2010 to provide primarily non-perishable groceries to 200 qualified families per month. By economic necessity, the Food Pantry has grown to serve over 325 families a month in 2015. Also in 2015, we successfully launched the Greater Goods Resale Furniture Outlet, which offers our clients affordable housewares — and provides Rise with a revenue stream to further support our comprehensive array of programs.
Our Mission: Through community partnerships and direct services, we assist local families and individuals in recovering from setbacks and achieving their full potential.
Our Vision: We strive to be the center of social support services in the Hightstown/East Windsor areas, building a cohesive environment where families thrive and feel optimistic about their future.
​
​
Our mission is to equip Trenton's children and young adults with skills necessary for:
Academic achievement
Life management
Spiritual growth
Christian leadership.
The vision to create an UrbanPromise ministry program in Trenton became a reality in 2011 when UPTrenton held its first Summer Camp on West State Street. Enthusiasm about the camp was so great that we opened our doors for a free AfterSchool program that same year. In 2012 we launched our second site in downtown Trenton. In the fall of 2014, we opened our third site in east Trenton in collaboration with Habitat for Humanity. We have continued to operate AfterSchool and Summer Camp programs in three locations.
With a five year history, our goal is to create and maintain at least one program site in each ward of Trenton. We are well on our way!
Volunteer
Volunteers are an integral part of the success of the UrbanPromise Trenton program. There are many opportunities to work directly with the youth activities as well as the teams that support our programs. Whether you have a few hours or can volunteer each week, your help is invaluable to our success! Explore some of the options for volunteering on our volunteer information page.